The History of Hanalei Surf Company
Charlie Cowden on the History of Hanalei Surf Company
I started the business in 1982 and I'm lucky to have found a way to make a living doing what I love to do. Much has changed over the years, but the focus of the business is still its hard core, lifetime commitment to water sports equipment and its customers. Hanalei Surf Company is proud to be celebrating its 37th year in business this summer.
Photo: Hanalei Surf Company's grand opening | Charlie Cowden, Gaylord Wilcox, Keith Ching | November 18, 1989
I was in high school, in a little bit of trouble, and ran away from home to Kauai where a friend of mine was living. We surfed Pakalas alone, surfed Hanalei and explored Kauai. It was then that I decided this was the place I wanted to be, so I packed up and moved to Kauai in 1970. I surfed during the day, worked in restaurants at night and occasionally attended Kauai Community College.
Photo: Charlie Cowden | Speed trials south of France | 1986
Up until 1979 I was getting all of my surfboards from a neighbor in Foster Village, James "Booby" Jones. I didn't realize how good his boards were until he quit shaping. It was devastating, as his boards, especially his big wave guns, were so advanced for the time. I had no choice but to learn to shape my own boards and try to figure out why his worked so well.
Photo: Charlie at the Bay | March, 1987 | By Keith Shealor
In the summer of '82 my friend Pierre Bouret gave me a windsurfing lesson in Hanalei Bay and that was it- my life changed. We windsurfed every day that summer. At the time I was the only shaper on Kauai who actually windsurfed and because of that I immediately had 4 orders for windsurfers before even having shaped one. The friends I was shaping boards for also needed the sail and rigging so we pooled our money and I went to Oahu and opened a dealership with Hugh England at Windsurfing Hawaii.
Photo: Charlie Cowden | Planters Speed Week, Sotavento, Canary Islands | 1987 | By Steve Wilkens
Pierre encouraged me to buy an extra rig as he was sure someone would want it. The rig was sold before it even got to Kauai. Soon the extra bedroom in my Princeville house was full of new equipment for sale. Jimmy Lewis, a new friend and shaper I had met, was in my garage shaping the world's greatest sailboards under the Cowden Hawaii label. Windsurfing equipment was improving on a weekly basis and cars were lining up the street. We pioneered new windsurfing spots all over Kauai. Every morning we listened to George Mason's weather report on KGU radio and consequently became quite astute at forecasting the wind and waves. It was an exciting time.
Photo: Hanalei Sailboard's windsurfing instructors Foster Ducker and Keith Morrison | Anini Beach | Circa 1988
Without any intention or plan, my hobby soon became a business and it wasn't long before it outgrew the Princeville neighborhood. I rented a tiny space from Mr. Ching behind Na Pali Properties in the Ching Young Village and changed the name to Cowden Sailboards. Official hours were 9am until noon. That location was more of a clubhouse for windsurfers, a place to eat breakfast, check the weather and then head out to Tunnels or wherever it was going to be windy.
Photo: Middles | 1982 | By Tex Wilson | "Planing jibe on my first personally shaped windsurfer and first rig. Check out the Iwa burnt ironwoods." - Charlie
As the popularity of windsurfing on Kauai grew rapidly so did the number of visitors coming by the store wanting to take windsurfing lessons and rent equipment. I quit my waiter job at Chuck's Steakhouse and expanded to the Hanalei Trader Building where the added space allowed for a windsurfing school and rental business. Once again the name was changed, this time to Hanalei Sailboards. We ended up teaching over 10,000 people to windsurf. It was at this location that I began our monthly Water-sports Swap-meet which has been held faithfully since.
Photo: Hanalei Sailboards located in the Hanalei Trader building | Circa 1985
Hanalei Sailboards pictured to the left near Sand People and The Dolphin | Circa 1985
(Before police would block the road when the town flooded!)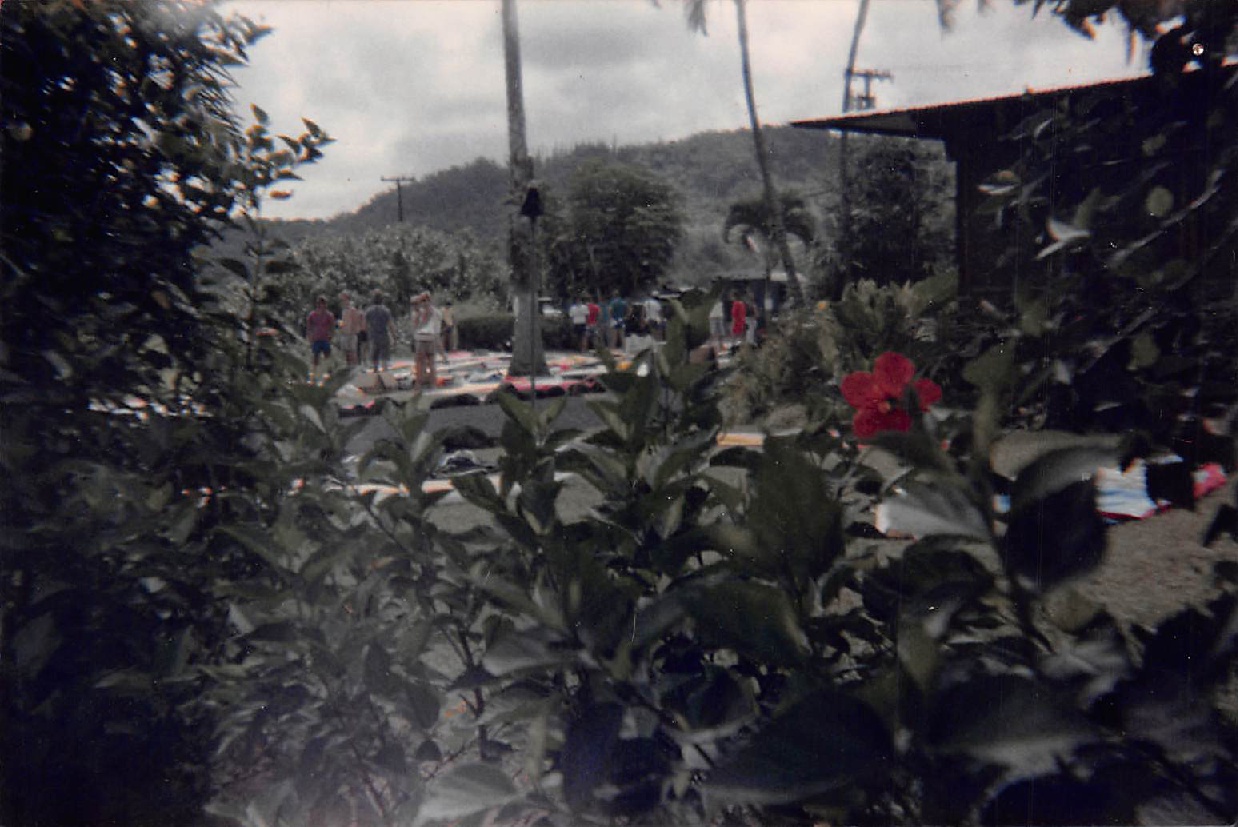 One of the very first swap-meets on the Hanalei Trader lawn…
Always a good day for Tropical Taco
I was then offered a space in a new shopping center yet to be built. Gaylord Wilcox was making arrangements to move and restore the old Hanalei School building to the center of town. When it was finished in 1989 I opened Hanalei Surf Company and the business finally expanded into its roots- surfing.
Photo: Charlie's 1986 red truck in front of what used to be Hanalei School | Circa 1987
Ms. Harada's kindergarten class foreground, Mrs. Baker's first grade room in the background | 1988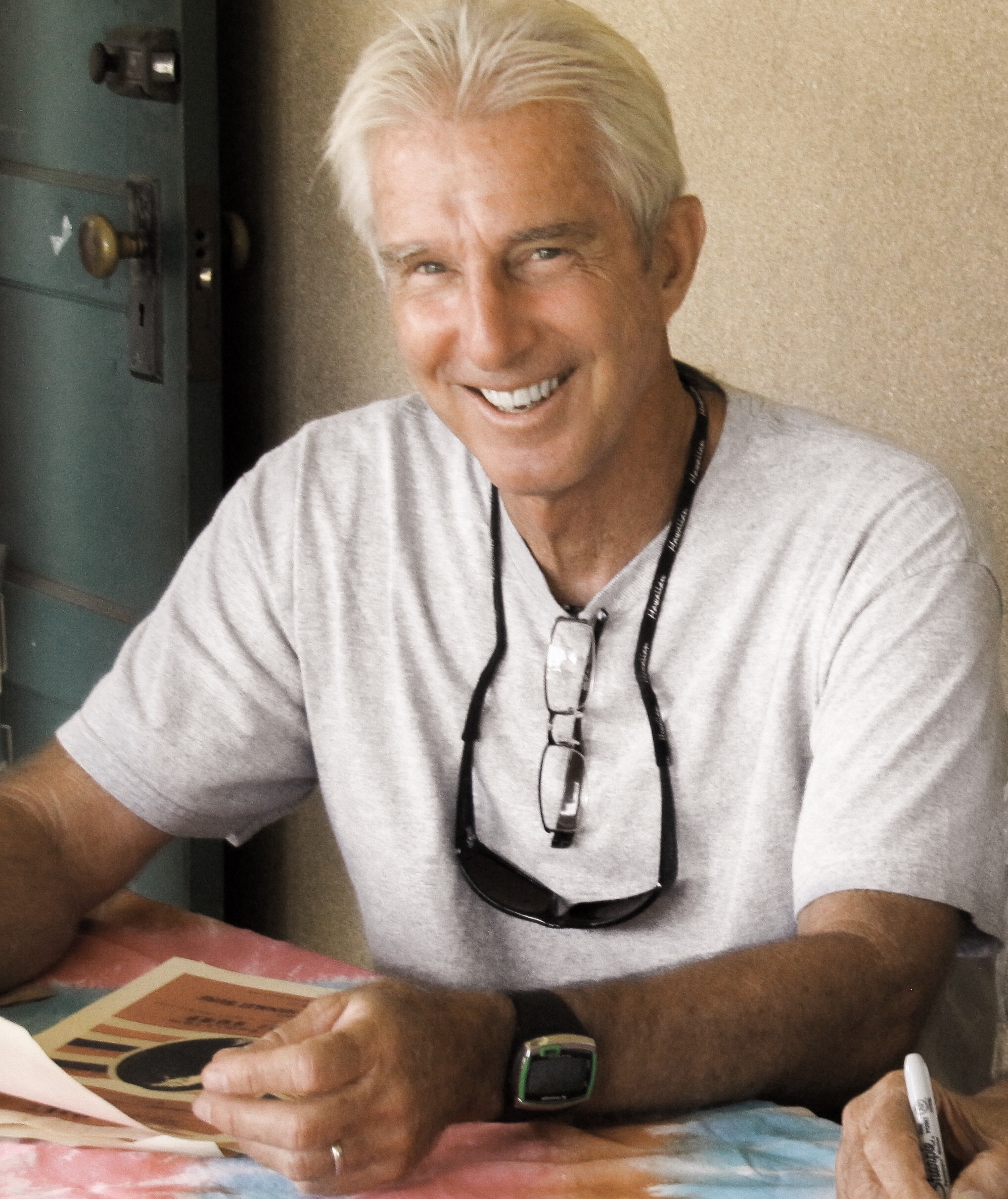 Looking back, I am amazed at what grew out of a hobby. Hanalei Surf Company offers the largest, most comprehensive inventory of water sports equipment and beach accessories on Kauai. We love our customers, many who are, or have become, lifetime friends, and we are very grateful for the hard work of all of our business partners and employees throughout the years. Best of all, I can still rationalize that I've been working all day when I've been surfing the bay, talking story at the Pier and eating at the Village Snack Shop. You know, customer relations, research and development, maintaining the shop image… I work hard- just ask my staff!
- Charlie Cowden, founder and owner of Hanalei Surf Co.
Hanalei Surf Company | November, 1989
Hanalei Surf Company | November, 2018